What is the difference between a Maisonette and an apartment?
The choice whether to purchase an apartment or a maisonette is often a quandary for many a buyer. Both property types have their plus points and there are even some overlaps in characteristics, but we will explain the difference between the two in easy terms. It really comes down to it being a lifestyle choice and what you, as the buyer, prefer in a home. Apartments are the most plentiful of property types to be found in Malta, but not so when it comes to the much-loved maisonette… so they are a more exclusive type of property to own. This is our take on both property types and we love them both!
The Apartment 
Apartments makes up most of the island's panorama and the urban landscape is peppered with their silhouettes. The choice of apartments available to buyers is endless: they really suit any budget, size requirements or location. Apartments can be anything from a small lock-up-and-go studio to a large 7-bedroom apartment in the most spectacular of locations!
Apartments are the most suitable for professionals with busy lifestyles, the international traveller, students or even retirees looking for secure, cluster living and low-maintenance. Apartments are also the preferred investment type to rent out long-term and short-term. The typical Maltese apartment will generally have a layout of one to three bedrooms in a rectangular layout with living spaces on the front and bedrooms at the back. Family bathrooms are located almost always half-way in-between these two areas while larger apartments may have an en-suite bathroom or two. In terms of outdoor space one would normally find a balcony or two, often at the front and at the back. In some instances, they would have very comfortable outdoor spaces in the form of a terrace, making this ideal for entertainment.
Traditionally an apartment block would have been three to five floors in height, but recent legislation paved the way for many floors to be added to existing blocks and the construction of high-rise tower blocks in certain areas.
Apartments in Malta can be of age or brand new and usually older properties would have seen several upgrades by their owners over the years. When it comes to size, we find from compact units in areas popular with students to luxury multi-million euro apartments in exclusive areas such as Portomaso. The choice is endless and only really curtailed by one's budget. The minimum size of a one-bedroom property is of 55 square metres, two-bedroom must be 90 square metres or over, while three-bedroom buildings must exceed 115 square metres.
Luxury apartments located on or near the beach and promenades are favoured by affluent locals and international buyers alike, as these are usually close to promenades, bays, popular shopping areas, restaurants and are idyllic for supporters of Malta's café society culture.
The demand for rental apartments in Malta has soared over the past years and they usually get purchased by eager local and international investors who are keen to rent them out.  Many speculators and investors have seen their rental portfolios outperform any other type of conventional investment, as interest rates are low and financing the purchase of a second or even third property (and then renting it out) seems to pay for itself in Malta! Historically the Maltese also prefer to invest their savings in property rather than keeping it in the bank in a savings account, as the returns from real estate are far better.
The influx of foreign nationals coming to work, live and retire in Malta has added to the demand for quality apartments: contract workers in the field of finance, i-Gaming, the IT industry and thousands of students that attend the many international language schools here during the summer, are always on the lookout for rental apartments in central locations.
Convenience and safety
Apartments are affordable, are to be found everywhere and offers a safe, convenient way of living for its owners. What could be better or easier than a lock-up-and-go property such as an apartment? You always have the added measure of security afforded  by "cluster" living where your neighbours are more likely to keep an eye on your property when you are not there and then there is the shared upkeep of the common parts. Common parts will be the entrance foyer, stairwell and for many it could include a communal garden or even pool area. All of this makes apartments an immensely popular choice for property buyers and investors. 
The Maisonette
Maisonettes can be found in almost every town and village in Malta, but these beautiful and sought-after types of properties are not as plentiful as the apartment. Although often described as "a type of apartment", these properties feel more like a freestanding house than anything else. The groups of units they form part of can range from just a few to larger independent groups of maisonettes.
Not all maisonettes are on ground level and some can be found on the second or third level in some cases, but all will have a separate ground-level front entrance door, providing privacy for its owners to come and go as they please. Most maisonettes will have access to a back yard or garden area, at times large enough for a splash pool, barbecue areas and al fresco dining areas.
Owning a maisonette can also be considered as "cluster" living and therefore the population density of where they are found can be on the high side, just as with apartments. Off-street parking and garages are a huge bonus should any maisonette come with this, but it is rare and will add considerably to the asking price. As most traditional maisonettes were constructed quite some time ago, prospective buyers should have them thoroughly evaluated prior to purchase, as considerable modernisation and upgrading may be needed. Some maisonettes also have their own roof.
Older maisonettes were built with traditional building materials such as limestone and they almost always include the best original features of the period which can be hand-crafted woodwork, beautiful balustrades and staircases, traditional tiles, architraves and high ceilings. Most of the rooms are separate in unconverted maisonettes, but many have been modernised to the open-plan format preferred today, including sporting all the latest mod cons.  It is the ideal smaller home for the romantic in all of us and much loved across the nation.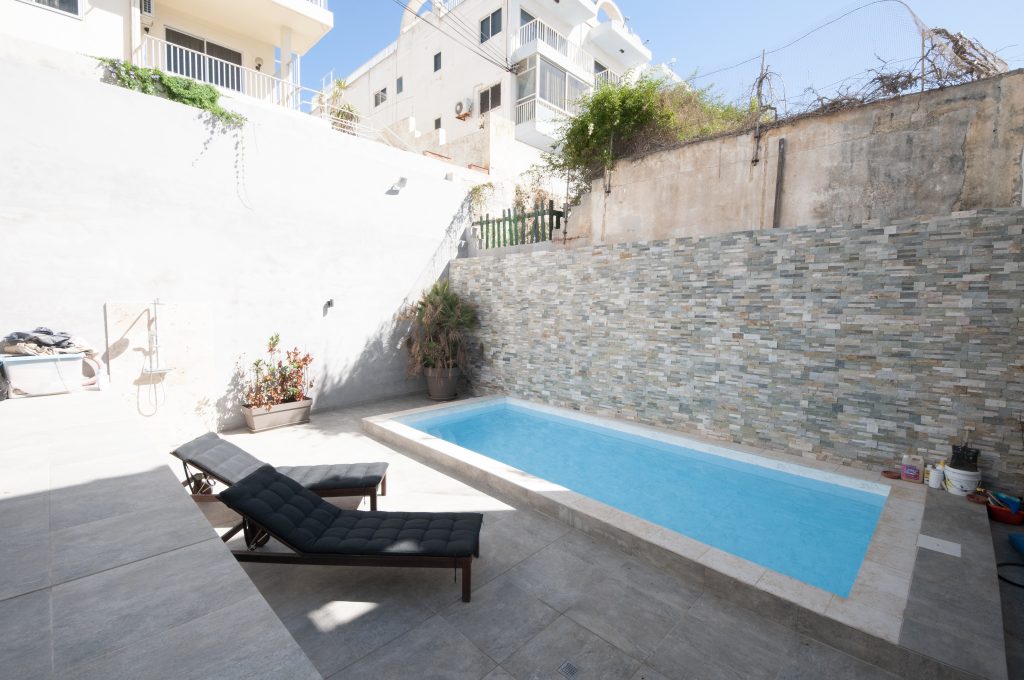 GOOD TO KNOW 
When purchasing any property, foreign nationals from countries that are not part of the EU are required to apply for an AIP permit when purchasing any property outside Designated Areas and this applies to apartments and maisonettes as well. The only exceptions are:
An EU Citizen that has been resident for more than 5 years.
A non-EU resident who has lived in Malta for more than 5 years.
An EU Citizen who purchases a property as their primary residence.
An EU Citizen who purchases a property for investment purposes.
In the case where one of the spouses is an EU Citizen and the other not, both people can benefit from the examples mentioned above as long as the property is intended to be their main residence.
If a property is to be used for business activity or to be rented out, this needs to be reflected in the Contract of Purchase.