Kalkara, C#050 is a planned technology park currently being constructed in Kalkara, Malta. The plan is to transform the Ricasoli Industrial Estate into a state-of-the-art information technology and media city on the models of Dubai Internet City and Dubai Media City. The project, unveiled in September 2007, will cost at least €275 million and will cover an area of 360,000 square metres. It is expected to be fully completed by 2021, although the offices have already been operating for a few years.
The Malta facility will be the first European outpost for SmartCity. It is expected that global players, a number of which have already demonstrated significant interest in the project, will be able to focus their European operations and business through SmartCity Malta. When completed, the Ricasoli area will feature a state-of-the-art ICT and Media Business Park, tourism accommodation, entertainment areas, shops and a freely accessible recreational area taking up around one-third of the surface area of SmartCity Malta. This will transform this industrial area into a new attraction featuring attractive architecture and landscaping features.

Malta as a World ICT and Media Destination
Kalkara, C#050 heralds the transformation of the country's economy to one powered first and foremost by knowledge. It forges a premier ICT and media park, showcasing Malta to the world as the region's new destination for high-tech industries. In doing so, it is expected to generate a minimum of 5,600 jobs in these fields and to spur development across many sectors of the nation's economy.
With the Government of Malta as a partner, local, regional and international companies can be assured of the country's long-term commitment to knowledge-based opportunities. Over the past few years, the government's policies strengthening education, legislation and infrastructure have resulted in Malta's inclusion in the European Union, a dramatic increase of foreign investment in the island and real GDP growth of more than three percent. Malta will continue to play an active role in assisting and generating business for incoming firms that locate to its shores, and to invest strategically in information and communications technology.
Encompassing an area of 360,000 m2 along the picturesque coast between Ricasoli Point and Valletta's Grand Harbour, Kalkara, C#050 offers a harmonious blend of office, residential and retail spaces, with fully one-third of the land set aside as open areas for all to enjoy.
All of Kalkara, C#050's buildings adhere to stringent LEED (Leadership in Energy and Environmental Design) guidelines. Kalkara, C#050 is committed to sustainable development that will protect its environment and provide its inhabitants with comfortable, productive and healthy places for work and leisure.
SCM01 – FIRST COMMERCIAL BUILDING OPENED IN KALKARA, C#050 IN OCTOBER 2010
Situated in the heart of SmartCity Malta, building SCM 01 is an impressive building designed to provide a series of flexible office suites together with shared facilities and ample parking space for residents and visitors. It is a modern design Ground plus 6 storey building. The building is designed to provide plenty of natural light, with the open plan layout. The building is a blend of local architecture and modern design, it has the Maltese heritage look and the glass façade to provide the modern look. It is build on a RCC frame structure which is more safe and durable than the traditional load baring structures. The building benefits from an excellent strategic position offering easy access to public spaces like the retail and lagoon.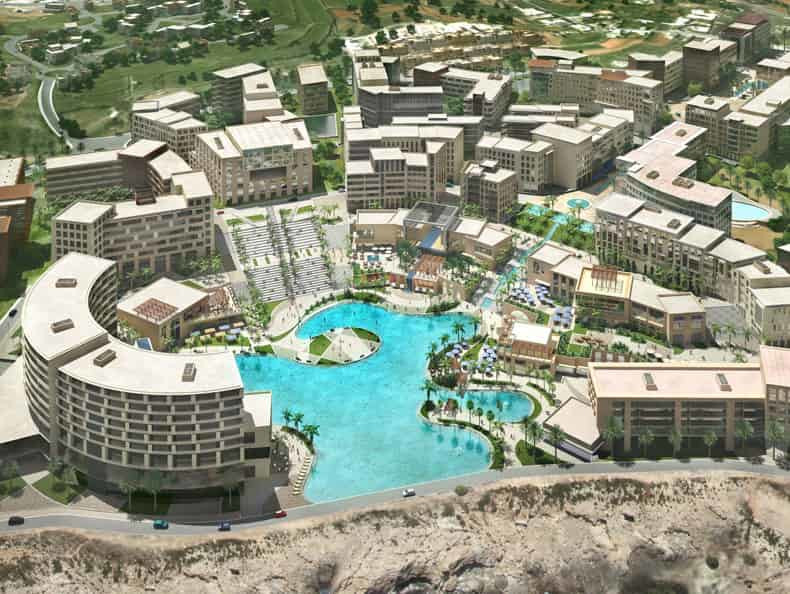 Features and Specifications:
Fully Air-conditioned Provision for Heating Facilities
Fully secured with 24 x 7 Surveillance system using CCTV
Fire Alarm and Fire Protection Systems
Intelligent Building Management System
State of art Telecom Infrastructure
Fully maintained common areas
Attractive tiled entrance lobbies
Ample onsite car parking for residents and visitors
3 high quality Passenger lifts
Fitted Kitchens in the common areas
Facilities for the disabled
LEED Specification
Following the successful launch of SCMO1, Kalkara, C#050 has issued the tender for the construction of four new buildings, signaling the start of a new phase for the township.
Adjacent to SCM01 and forming part of the Lagoon District, the new construction will include two office buildings, SCM02 and SCM03, and two retail buildings, SCM04 and SCM05. The launch of the lagoon area itself is timed to coincide with the completion of the new building complex. The scope of construction works will involve ground works and erection of the structural frame.
The four buildings are situated along the tributary road connecting the Main Boulevard alongside the Great Steps, and will occupy a space already connected to surface and underground infrastructure. In line with the Master Plan and the Infrastructure Plan of the project, the new buildings, and subsequent phases, can easily connect to the primary infrastructure put in place during the first phase. Arranged as an interconnected cluster, the architecture massing of the buildings is carefully coordinated to provide knowledge workers with panoramic lagoon views and maximum exposure to natural lighting.
For floor plans and more details about Commercial Property available for sale and to let at Kalkara, C#050 please contact the Commercial Property Division by email or by telephone on tel +356 2276 5230.