Your personal taste will play a huge role in turning your rental property into a home. The interior is a reflection of your personality, whether it is in the arrangement of furniture, the décor, or the paint colours.
If you are renting a property, it can be difficult to make the space fit your personal style as there are some things you cannot change around the house. On the other hand, if you are the owner, you have to make it neutral enough so that a tenant will feel welcome and not overwhelmed by your personal taste. As a landlord, remember to be lenient with the design so that tenants can place their own personal stamp on the property.
We have some simple, inexpensive, and handy tips for landlords to ensure a property is fresh, inviting, and neutral to any prospective tenant:
Paint does wonders
This is the easiest and most inexpensive way to revive a property's interior. Hairline cracks can be disguised, rooms can be brightened up and the smell of fresh paint conveys the idea that you as a landlord have gone some way in preparing the property for the new tenant. Choose a neutral colour scheme throughout and stay away from primary colours. For highlights, choose a wall to wallpaper with a geometric and modern design, especially in the living area.
Revive a tired kitchen
As one of the spaces where people spend a lot of time, the kitchen can be a death knell for any rental deal if it smells of spices, cooking oil and has stains all over the walls. Make sure it is sparkling clean and smells fresh to make it more appealing to new tenants. If you have to spend a bit of money, update the cupboards and storage areas, keep the carcass of the fitted units, repaint the doors or have them laminated and add new handles. Countertops can be freshened up with commercially available resurfacing kits that mimic stone, granite, and laminates.
Install mirrors
Never underestimate the power of mirrors. Strategically placed, mirrors can camouflage, bounce light around, brighten up a room, and double up the size of small spaces through the art of illusion. This is one of the oldest and most effective tricks in the book. Plus, it doesn't cost as much as removing a wall or adjusting a sloping ceiling.
Decorate with art pieces
Invest in some large modern, geometric abstract pieces that are neutral in their colour composition that will complement the interior of a room. Stay away from cluttering walls with leftovers of chipped and dated heirlooms and pictures that are controversial, religious, or of a political nature. You do not know what your new tenants' beliefs and persuasions are, so go neutral with any art but make sure they complement the colour scheme of the room in a subtle, harmonious way.
Brighten up the rooms
We all have some dark corners in our homes and the easiest way to brighten up a home is with cleverly placed lighting. There are a plethora of table lamps, standing lamps, spotlights, track lights, hanging lights, chandeliers, wall sconces and more on the market at reasonable prices. Choose a modern, neutral design no matter the type of light and brighten up those murky corners. Also do not forget that lights can set the tone and mood of a room, so clarify your intention before you buy.
Update the blinds
We all know blinds are long-lasting but when the time comes to replace them just do it. Sunlight can make old blinds brittle and years of hanging collects dust and also smells. Fabric blinds can fray at the edges, the plastic fittings snap off and the last thing a tenant wants are blinds that are broken, that open only partially or not at all. New blinds can take years off a room's age and here, also make sure you stay neutral when it comes to your colour choice.
Don't neglect the bathroom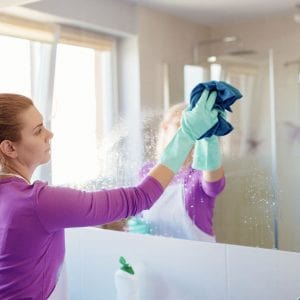 Another very important room to refresh and update is the bathroom. Get rid of limescale, stains, rust marks, and make sure there are no leaky taps and faucets. Remove moldy sealants against walls, reseal and re-grout floor and wall tiles. If you want to restore wall or floor tiles' glory, you can also re-grout them.
Use area rugs
Invest in new area rugs in a neutral colour and design. Area rugs can divide open-plan spaces into well-demarcated zones and help to pull and group furniture arrangements together. This will help define the purpose and usage of areas in the property to the tenant and clarify as to what the specific function of that space or area is. If you have existing rugs that will stay for the new tenants, make sure they are professionally cleaned, have no holes, burn marks or stains. A sure-fire way to lose a prospective tenant is to have sad looking, neglected carpets and area rugs that smell!
Hide unsightly wires and boxes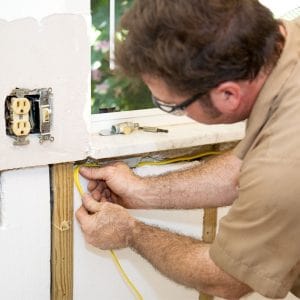 We all have them in our homes: routers, fuse boxes and wires. If you are letting out a property that is furnished, try and hide a spaghetti nest of wires with a cable management sleeve that is neatly tucked behind a console. Even if you can't hide it, having it streamlined and gathered together with a sleeve will already help a lot. Routers can be camouflaged by putting it in an old book cover or a decorative box which is available from most DIY shops. Fuse boxes can be hidden by mounting a painting on the wall over it fitted with a hinge on the side for easy access when you need it.
Add a touch of greenery
Having plants in the property that you are renting out is a good idea, given that they look healthy and will be cared for. Plants absorb carbon dioxide, release oxygen and are generally good for our well-being.  Use slow-growing evergreens that need little or no trimming and the property will look fresh even on the dreariest of winter days. Ensure that you ask the tenants if they are interested in taking care of the plants once they have moved in, otherwise remove them and take care of them yourself until next time you have to stage a property for rental inspections by prospective tenants.