Who does not love a bit of colour? We all know how a bunch of colourful flowers can lift our spirits, how the exotic colours of forests and even the white hues of the arctic landscape leave us in awe.
Colours affect our emotions and wellbeing, making it an integral factor when designing a room or a house. You can also use them to your advantage, especially when you are looking to rent or sell a property. In fact, studies show that colour is a powerful communication tool as it can be used to signal action and influence mood.
If you are not sure what's the best colour for your bedroom, living area, or kitchen, below are some tips to help you get started.
Living room
Green's characteristics: Calm, nature, healing, quality, reviving and freshness
We spend an inordinate amount of time in our living rooms: we socialise, relax, entertain and even fall asleep there. Green is the best choice for this area, so whether you do it through furniture, pillows and cushions or carpets, it is your choice. Choose a white-based wall paint with a very, and we mean very subtle hint of green as going all out with having an entire room with lime green walls is guaranteed to make any visitor to your home cringe. You can even stay completely neutral and have plants around to bring in the green or have one accent wall in the ever so popular Delicious Monster wallpaper.

Dining room and Kitchen
Cream/White/Light tints of white characteristics: Clean, simple, honest, innocent, pure, safe


We all eat far too much and therefore never use red in the kitchen as it stimulates the appetite! Just think how many fast food companies have red in their logos…the same goes for orange and yellow. Did you know if you mix red and yellow it results in orange? You want to convey calm and a sense of cleanliness in these areas, so go for pale creams, off-white or subtle white tints.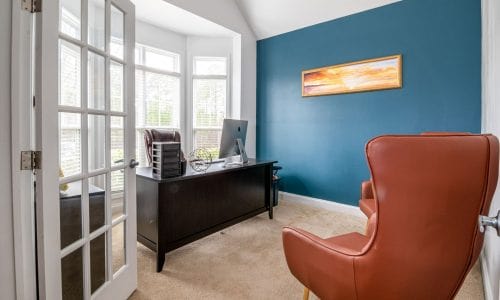 Study area 
Blue's characteristics: Peace, calm, loyal, trust, serene
Avoid grey in an office or study as it will not inspire anyone. Blues have shown to be the best colour if you want to concentrate, be calm, focus and feel centred. It lowers heart rate and you will also make fewer mistakes! Here again stay neutral with whites that have an underlying blue tone, barely noticeable…but there. Avoid the bright extremes of cobalt, sky and ocean blues as it will clash with everything in your home and you will eventually dislike it.

Bedroom
Purple and red's characteristics: Royal, passionate, luxury, ambitious
This one we approach with a big "CAUTION" warning slapped all over it. For the bedroom the experts suggest we avoid black at all costs as it is obviously a passion-killer, but rather to go for…er…purple? Luxury and sumptuousness is denoted by purple but we'd rather suggest crisp and soft white tones with maybe a purple throw on the bed to spice things up. Even look at having a painting with purple and red as its overall tones hanging above the bed and for the rest stay calm.

Home gym
Orange's characteristics: Brave, success, confident, energetic

Orange highlights done the right way will work wonders for whipping up much needed energy levels here. It will increase oxygen levels too, so have your dumbbells and exercise mat in orange or have this popular retro colour in the light fittings and wall decorations.

Bathroom
Yellow's characteristics: Warm, happy, cheerful, creative, uplifting
When we say yellow for the bathroom, we do not imply canary yellow walls all-round! Yellow stimulates nerve function, the liver and is guaranteed to see things trough (or out of you) first thing in the morning. Have a bunch of yellow flowers on the sink, yellow and white "Giorgio of Beverly Hills"-striped towels for that retro look over the towel rail and you are good to go.

Final Words
As with any good and sensible design one needs to consider good taste. We refer to primary colours almost always when we speak about colour but it does not mean the brightest or strongest of that particular colour should be used for your tiles, walls and ceilings. The secret to a beautiful, tastefully designed and decorated home is neutrality, harmony and nothing that offends the eye. Colour accents that pop and attract, that invite one's gaze into the room to explore further is the secret and this is the best way to apply colour to the home.