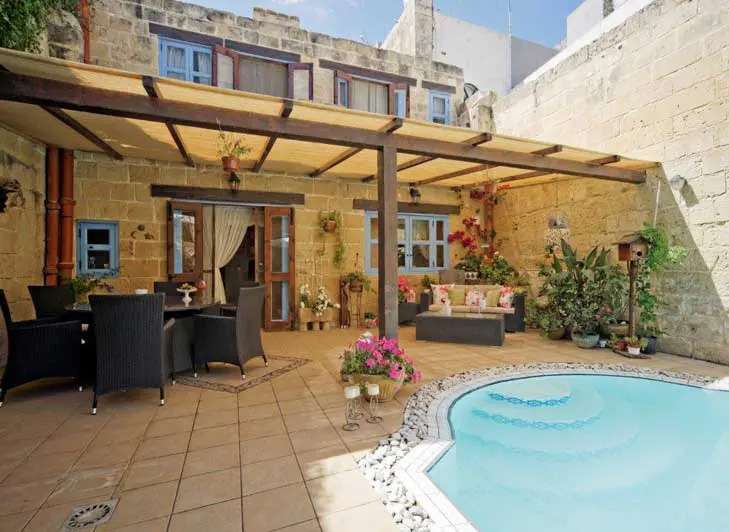 After the tedious process of finding your ideal property in Malta and turning it into your dream home, a substantial amount of time and effort is then spent maintaining your home in order to keep it looking as good as new for as long as possible.
Just like you would regularly clean the furniture and floors of your large indoors, your outdoor space deserves the same attention, whether it is a large garden, a decked area or the spacious terrace where you're planning your next barbeque with some friends and a bottle of wine.
The problem with the outdoor space of a property is that it is frequently forgotten. Home owners enjoy the prospect of having their own outdoor area where they could enjoy the summer sun or the cool evenings but we often forget that this space is exposed to all elements and needs regular up-keep. In fact, your outdoor space must be cleaned regularly as it is exposed to weather, dust and pests, and items kept outside are more prone to wear and tear if not maintained properly. Consider your outdoor space as an extension of your indoors, whereby the entire house is not completely cleaned until the outdoors has been washed too.
Is the barbeque grill left outside covered up for months at a time? Does your outdoor furniture remain exposed to all the natural elements as you favour eating hot soup while cosying up on the sofa during the winter? If this is the case, then there are certain changes you have to make in order to keep your outdoor space from becoming the reason why you would rather keep your curtains closed during the winter!
1) Clean and store the Barbeque
The barbeque season is upon us and there's no better time to turn on the grill and enjoy a family barbeque on your terrace or garden. However, after a winter of neglect, your barbeque might be looking rather uninviting, with layers of dust and a build-up of  grease. Therefore, it is advisable that when the summer is over and dining is moved back indoors for the winter, the barbeque is thoroughly cleaned and disinfected to get rid of left-over food. Scrape off all junk and rust over some newspaper and wash the flat plate with a wire brush under warm soapy water. Afterwards, rinse them with white vinegar and water. Once dry, place everything back on the grill and coat the hot plate and grill with canola oil and let it burn off to complete a proper barbeque deep-clean. If you will not be using your barbeque for a while, it would be a good idea to cover it up and place it somewhere indoors, away from the natural elements. After all, the weather could be lovely in winter and you may need your barbeque ready to use at a moment's notice!
2) Keep your Outdoor Party Pest-free
There is nothing worse than trying to eat your freshly grilled steak while getting mauled by a
dozen mosquitos. There are measures you can take to keep these pests away when using your outdoor space. If you are eating dinner after the sun has set, use a bug lantern which attracts and zaps pests. While many of them were unsightly in the past, they are now available in a variety of designs thereby adding charm to your outdoor space while being extremely useful! Alternatively, you can set up a canopy surrounding the dinner table and use insect screens to keep mosquitos and flies from entering. Another simple method of keeping mosquitos away is by purchasing citronella candles that repel mosquitos very effectively and also have a pleasant citrusy smell.
3) Away with the Summer Heat!
While having a pool is the ideal way of freshening up in the heat, there are a few other options to keep cool this summer. Investing in a canopy or umbrella could be just what is needed to hide from the hot sun and enjoy the shade any time of the day. Different canopies provide different types of shade – these could be found in canvas, fabric, bamboo, wood or aluminium – depending on the style and décor of your outdoor space. Such canopies need to withstand the elements unless they can be withdrawn when not in use. If the outdoor space consists of a garden, one could also seek refuge from the sun under the trees
4) Clean outdoor furniture

Outdoor furniture requires some attention if it is to be kept looking presentable and attractive, and if you want it to last a few summers. Depending on the chosen material, furniture needs to be cared for in different ways. Wooden furniture should be stored indoors during the winter as it is a natural source and therefore very susceptible to damage when exposed to the rain. Plastic is prone to discoloration in the sun and metal tends to rust when exposed to long periods of moisture.
Soft furnishings such as cushions must be cleaned regularly and wiped down to avoid a build-up of mould, which is a likely occurrence in Malta due to the high levels of humidity.
It is also a good idea to invest in a high-pressure water cleaner to remove dirt that builds up over the months on your outdoor furniture. This method will save you plenty of time rather than wiping down items individually – just be careful to not use excessive water on furniture made from wood.
5) Re-finish decking area
Ultimately, no matter how much you preserve your outdoor furniture, there will come a time when everything starts to look rather dreary and over-used. Consider re-finishing your deck furniture by changing the seating and cushion covers or replacing your plastic chairs with new ones to give a revitalised look to your outdoor space. The investment can be minimal but effective, as this could give your summer space a completely fresh new look for you and your friends to enjoy.
While maintaining your outdoor space could seem tiresome or time-consuming, it is definitely worth the effort as not only does it increase the value of your property, but it provides a personal outdoor space that you can enjoy all year round. Whether a garden, deck area, terrace or yard, you will surely appreciate being outdoors in your very own home during the many months with favourable weather in Malta. To view excellent properties with spacious outdoor areas that you can call your own, we invite you to visit our website or contact us for more information.