House flipping is all the rage and on a global scale: it can be seen on almost any home improvement channel, it is covered in countless magazines and it looks like everyone is making money out of it.
For those that have some experience in renovating homes and selling them for profit, it can be a lucrative business. It is usually done within a short timeframe by buying a property at the lowest price possible, fixing it up and then selling it at a profit. It is important to have a realistic view on what it takes to flip a property. House flipping is different in real life as opposed to seeing it in an hour-long television programme where it looks easy and seemingly very quick to accomplish.
Some home renovations can take months to complete. The process takes a lot of planning, obtaining the necessary permits and above all, the labour and skill involved to see the project through to its end. House flipping is more than just applying a coat of paint and making it look pretty to prospective sellers. On the other hand, if you have extensive DIY experience, are knowledgeable in building regulations and can project manage effectively, you can save yourself a lot of money and see a tidy profit.
Choosing the Property to Flip
The biggest secret to successful house flipping in Malta is finding the right property. Purchasing the wrong one can mean that you will have a hard time selling it or end up having to spend a lot of money on it to make it liveable. This will eat into any profit margins you may have had and lead to disillusionment with the whole adventure of house flipping. The best thing to do is to carefully do your homework, team up with the right agents and work teams that you can trust and find out as much about the market as possible. 
Questions to Ask Before Flipping a House
Here are some questions you need answers for when purchasing a home for house flipping purposes:
What market are you aiming for or targeting?
What stock seems to be moving on the market?
What types of properties are people buying most?
Which areas are the most popular?
What amenities are nearby?
Does the location provide easy access to public transport?
Does the location have access to major roads in and out of the area?
Is the area desirable?
Are similar properties in the area selling?
How long do similar properties that I am planning to flip stay on the market on average before they sell?
What prices do these properties achieve?
As someone who will be house flipping, you have to be clinical and unemotional about the property you are planning to purchase. After all, this is an exercise in making money/profit, not renovating a home for yourself to live in. Obviously, you will have to spend some money on renovations and aesthetics, but these are to be kept neutral and low-key. 
Costs to Consider
An average rule house flippers always stick to is the 7/10-rule. 10 being the selling price for you and the 7 being what you should spend as maximum of the eventual selling/asking price. This will leave you with a possible 3 points or 30% profit if everything works out. This is where we advise that you speak to your estate agent and crunch some figures as to what properties of similar build and size in the area sell for. Then you can work out how much you can spend as a maximum on fixing it up before going to market. Always remember that you never work out exactly what you will be spending on fixing a property up, you always have to have a safety margin built in. If the total foreseen expenses were going to be for example €70,000, you then ask €100,000 after all the work is done leaving you with €30,000 profit. Expenses include the purchase of the property, fixing it up, all the legal costs, stamp duty, the notary's expenses and possible agent's fees. Always make sure you have some money in the kitty for unforeseen expenses during the renovation stage and stick to your budget! 
If you are new at house flipping, the best thing you can do is to go for a property that needs cosmetic work done only in the beginning while you are learning the ropes. These are harder to find, as you will be competing with experienced flippers at finding one and they already know their stuff, but it is your safest bet for starters. In the beginning properties that need structural changes are to be avoided, as it is costly and time-consuming. Get a professional such as a structural engineer or architect to give the property you are interested in a run-over. Of course there will be e fee involved, but it will be money well spent. 
Other Things to Keep in Mind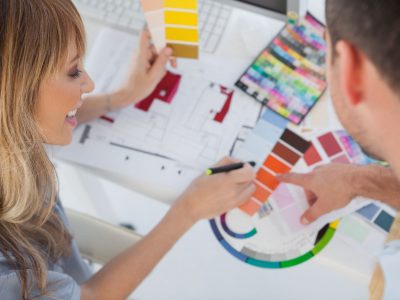 Once you have decided on a property and bought it, you will have to get your timeline ready and set a deadline of when you want to go to market, if you have not already done so. At this stage you will also already know whether you are hiring teams of painters, tilers, electricians and plumbers and what amount of work you will be doing yourself. Always get written and signed quotes beforehand and ideally it should also have the time to completion noted down so you can activate penalty clauses for work not done or late completion. This way everyone will be on their best behaviour and timeously complete the project. Also be aware to NEVER pay in full before the work has been done. Pay on progress (set partial completion markers on your timeline/schedule of completion) and if you feel like it, you may include a bonus if work is completed before the time. This way you will build a good rapport with your team.  
Always keep an eye on the clock: hiring equipment costs more by the day or hour and labour costs more if you overshoot the completion time envisaged. Should this happen to you, never be tempted to inflate the asking price to recoup some of the losses. If you can (within reason) rather let the property sell, take it on the chin and move on….lesson learned. To increase the chances of a property selling, think of staging it and you could stand a chance of making a profit on the furniture, appliances and decor too. But once again, only do this if you are within budget!
Do not be discouraged if your property does not sell right away. In the case where you are looking at too big a loss to absorb, think of renting it out as the rental market in Malta is very strong, especially for furnished properties that have been upgraded and renovated. That way you still hang on to the ownership of the property and in the long run capital appreciation will see to it that you make a profit, or at least break even….and in the meantime you would have made some money on getting a rental income. Always keep your estate agent in the loop, as they will be able to bring you the right tenants and also advise you when the market is hotting up for exactly your type of property and then you can sell!
Happy house flipping!