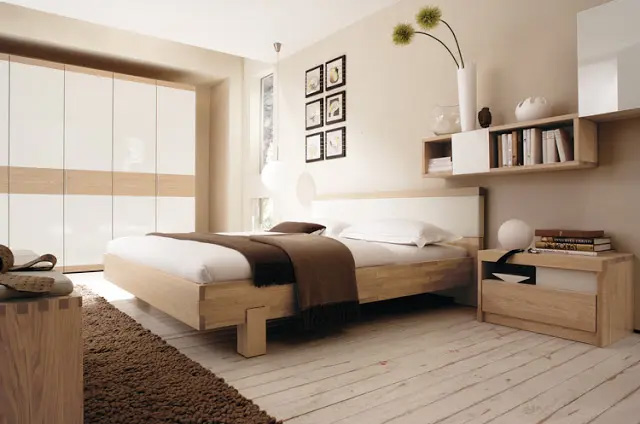 Our bedrooms are our safe-havens. They are the place where we go after a stressful day to unwind. People find comfort in surrounding themselves by the things that give them happiness – so why not take the initiative to redesign your bedroom to give it a fresh look that appeals to your current needs?
D.I.Y. projects can be a fun way to pass the time, and there are very small and easy steps you can take to give your bedroom a fresh look and to give it your personal touch. In this blog post, we will give you some bedroom decorating ideas to make your safe space truly yours.
Why not give your space a new look by changing up your bedroom colours? Or upgrade your design and have a more modern bedroom design?
1) Move Furniture Around
The ancient Chinese philosophy of feng shui is a system that harmonises your internal energies with the surrounding environments. It stands to reason that if your bedroom design is the most personal space in the home, it needs to synchronise with your own energies – how can you feel comfortable or safe in a space that feels chaotic?
Your bedroom's interior design is an integral part of this, so why not move furniture around?
2) Declutter!
How many times have you gone through your wardrobe, and seen clothes that don't fit you, or that you haven't worn in years and decided to give them to charity?
The same principle applies to your furniture – are there any pieces that are worn down or that you don't make use of anymore? Why not take the initiative to make some money whilst you design your bedroom from scratch? You could even use the money you make from selling old furniture to finance your master bedroom redesigns!
If you don't have furniture that would make money, there are also plenty of Facebook groups that people use to get rid of their old furniture by giving it a new home. 
And if your bedroom perhaps is a little on the smaller scale, then why not consider opting for more clever storage solutions for small spaces! 
3) Paint the Walls
The colour of your bedroom walls has a huge impact on how the bedroom design is perceived. Rooms with dark walls might be more soothing and create a sense of calm, but they also look much smaller. Lighter colours on the other hand make the bedroom interior design feel lighter and brighter.
You could even make your bedroom design come to life by introducing patterns, textures and designs on the walls.
We suggest that the best way to breathe fresh life into your bedroom is by adding in colours that appeal to your personality. So go ahead and treat yourself – give your bedroom a makeover with a fresh coat of paint!
 4) Mount Furniture onto the Walls
Bedrooms can become very cluttered, very easily – all of our most personal belongings tend to live in our bedroom first, and when you don't have a big bedroom to begin with, floor space can become quite the nightmare.
There are plenty of innovative and creative solutions to make up space. Why not invest in adjustable lamps that can affix to wall mounts to save floor space in a smaller bedroom? Or look into nightstands that can be mounted on your wall?
Shelves are an absolute godsend – they take up no space on the floor, whilst at the same time giving you more space to store your personal belongings.
 5) Give Your Bedroom a Makeover
There's no nicer feeling in the world than the confidence boost that comes from a makeover. Everyone loves trying a new look, changing their wardrobe, colouring their hair, or any other way they can change their physical appearance.
Why should this be limited to yourself? When is the last time you treated yourself to new bed sheets, curtains or rugs?
Give your bedroom a makeover with a new set of linen – and whilst you're at it, give yourself a treat. Make the upgrade to a higher thread count. You deserve it.
6) Experiment with New Lighting
Soft lighting can create an ambiance of relaxation, that's perfect for mellowing out after a tough day at the office.
Warm lighting can make a room feel very inviting and welcoming. Soft lighting that mimics daylight is also ideal for areas where you would be getting dressed, where you would be applying make-up and getting ready for the day.
A harsh light on the other hand would be good in a place where you would have to work, or read.
Coloured lights can also add that extra flare to a bedroom.
7) Deck Out Your Bed
 Picture this. It's been a long day at work and all you want to do is get home to your comfortable bed – wouldn't coming home to a bed that's decked out with soft pillows and comfortable cushions sweeten the drive home?
We all have those days. What better way to unwind, than falling onto a soft bed which is piled high with gorgeous pillows and cushions? Make your life a bit easier with a bed that you look forward to going home to.
You can experiment and get very creative by mixing patterns and combining prints of different size and texture, to give your bedroom some character when you redesign your bedroom.
8) Add plants!
Plants are known to connote ideas of well-being and relaxation. They add dimension and colour to an otherwise bland room. There are many ways how you can decorate your home with plants and turn it into a healthier space.
Aromatherapy has been known to have many beneficial effects – the smell of lavender is very calming and soothing, and peppermint leaves one feeling invigorated.
9) Bed Canopies
Add a little spark to your room and make it feel like you're coming home to a Disney film – if you're looking for the latest bed design, why not consider a bed canopy?
Aside from connoting a sense of luxury, they also give an added sense of privacy and security.
 

10) Introduce Bursts of Colour
If you want to keep a simple look to your bedroom, but you also want to introduce a flair to your room – why not add a pattern or a colour?
Art is a good way to do this – every bedroom redesign project needs some good pieces of art.
However you choose to redecorate your bedroom, to call your safe space home – don't be afraid to experiment and try new things to really add that personal touch to your most intimate living space.
And if you need help with redecorating or redesigning your bedroom, get in touch with our team of professional interior designers and they will be  more than happy to assist you!
If you would like to keep updated with property news from Frank Salt Real Estate Malta, follow us on Facebook and Pinterest where we keep you updated with the latest news and listings.