The archipelago of Malta has been one of the world's top relocation destinations for years now and many South Africans have made the islands their home. It is very popular with South Africans for several reasons, making it one of the easiest places to settle, retire and to buy property. Below are some of the reasons why South Africans relocate to Malta:
Safest country in Europe
According to Global Wealth Migration report, Malta is one of the safest places to live in the entire world. This goes for both crime and natural disasters and to be at the top of the list out of hundreds of countries ranked and surveyed annually, is no mean feat.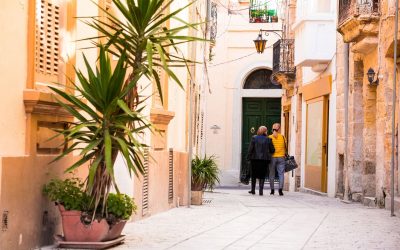 300 days of summer
Malta has more than 300 days of sunshine a year and has a typical Mediterranean climate with hot summers and temperate winters. Being located mid-way between Africa and Europe, it is the perfect location hub to the rest of the EU with daily flights to all major destinations.
Visa-free travel
As a full member of the EU, those who acquire residency in Malta have automatic visa-free travel to the rest of the EU and the Schengen zone while based in a virtually crime-free and prosperous European country.  
Large South African expat community
With a large South African expat community you will be able to buy old favourites like koeksisters, boerewors, biltong and many other products from established companies who have set up shop in Malta. Even one of South Africa's favourite seafood chains has opened a thriving restaurant in Bugibba and more are planned for the future.
Attractive Residency Programmes
Due to the many residence programmes on offer, Malta has something for almost any South African looking at emigrating or relocating: from acquiring citizenship to long-term residency or simply buying a second or holiday home in one of the most stunning locations in the Mediterranean.
Learn more about the residency programmes
All residency programmes are tailor-made to suit almost everyone's needs and the process of buying property is a straight-forward and uncomplicated process. Acquiring a property in Malta also means that your property will be appreciating and Euro terms, one of the word's benchmark currencies. Real estate in Malta offers above average capital appreciation and with its construction industry experiencing unprecedented growth, many investors have seen excellent returns on their property investments. Depending on where you buy and under certain conditions, as a South African you will also be able to rent out your property and stand the chance of generating a very good income from it when you are not in residence.
Seminars you can attend for FREE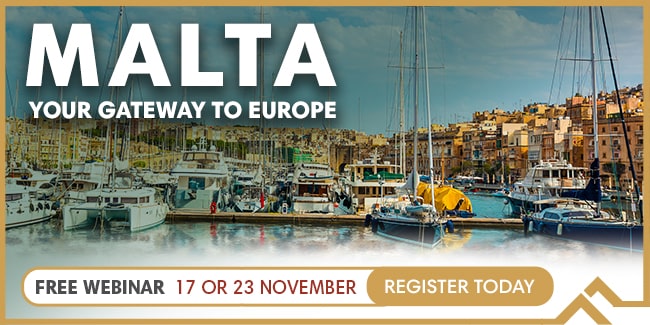 For South Africans who want to benefit from all that Malta has to offer, Frank Salt Real Estate will be holding their very popular Residence, Property Investment and Relocation webinars on Wednesday 17 and Tuesday 23 November 2021, at 16h00 South African time via ZOOM. This is the perfect opportunity to find out everything you want to know about living and investing in Malta and the webinars are free of charge, with no obligations whatsoever. The webinars are presented in collaboration with leading authorities from Malta that specialise in assisting with the seamless transition of South Africans to the Maltese islands. 
Three favourable Malta Residence Programmes in particular will be showcased: The Malta Permanent Residence Programme, The Malta Digital Nomad Programme and The Malta Citizenship by Direct Investment Rules Programme. Also covered will be Malta's property investment opportunities and what makes Malta an ideal international hub for business. The webinar will last around 45 minutes, followed by 20 minute workshops covering property investment, relocating to Malta to work or retire, doing business in Malta, the residency programmes on offer, foreign exchange and then there will be some time for general enquiries by all of those who attend. 
Attendees that are serious about relocating and investing will have the option of requesting and booking one-on-one virtual meetings with any of the key experts and these sessions will take place immediately after the main seminar. With only a few spots available and looking at the tremendous response to previous seminars held, pre-booking is a must. 
Seminar Speakers
Merle Whale, f

ounder of 

MaltaLifestyle

Charles 

Mizzi

,

 

the 

CEO of Residency Malta

James Muscat 

Azzopardi

, the

 Director of Credence

 which is 

a top 

Malta 

advisory firm

Alex 

Papagiorcopulo

,

 

the

 

b

ranch 

m

anager of Homes of Quality

Wayne Rosenberg

, the 

CEO of 

FXOne

 Financial Advisors

 
Malta has seen many hundreds of South Africans relocating to the country in the past few years and almost all of them started the process by attending Frank Salt Real Estate's informative and helpful seminars and webinars. Members of the team have all been to South Africa many times in the past and know exactly what is required in order to help South Africans with relocation and investment to Malta. This is your opportunity to kick off a wonderful adventure and life-changing event for you and your family. We look forward to meeting you very soon! 
Let us know how we can help