Living in the countryside of Malta
It is the dream of fairy tales: a beautiful home, well hidden in a quite location far from the madding crowd on a Mediterranean island. It may sound like a cliché, but this is now the preference of more buyers than ever wanting to escape the sometimes taxing trappings of city life. Requests for country houses have risen significantly over the past two years as more people opt out for a better quality of life. Living in a country house and still making a good living has been made far more accessible by the advent of remote working, so we now see even urban professionals and young families purchasing rural homes as a primary residence.  
Aggravated by the urban sprawl that is getting ever closer, especially in a small country like Malta, country homes are becoming scarcer and harder to find. Buyers are especially on the lookout for homes that offer privacy, has added security and ones that are due to their location and zoning status, guaranteed to be free of any encroachment.
With an abundance of historic homes dotted around the islands such as farm houses and houses of character, finding newer built properties located in the countryside are rarer due to the tough regulations guarding ODZ and UCA areas. The preference by regulators and the authorities are to grant permission for the restoration and upgrading of existing, older dwellings rather than to approve new homes to be built in outlying areas, although this does happen on special occasions and given that certain criteria are met. Giving preference to the rescuing of older historic homes is a positive step in preserving Malta's architectural heritage and its historic buildings, but this also aids in preventing the remainder of the idyllic countryside getting chipped away by the construction of giant apartment complexes. 
The beauty of living in a country house
Living in a country house comes with many perks: you have access to lovely outside areas such as walks and footpaths, gardens, orchards and pool terraces and the homes themselves are usually large and expansive, not to mention also full of history. Country houses are places for creative personalities, for families and for those that prefer peace and quiet above anything else. Imagine having a home where you can have your own vineyards, horses and paddocks or even a pond for ducks and some chickens supplying you with farm fresh eggs every day!
Now that we have painted the picture, let's look at some of the top country houses for sale in Malta and Gozo at the present time that will awaken the romantic in you.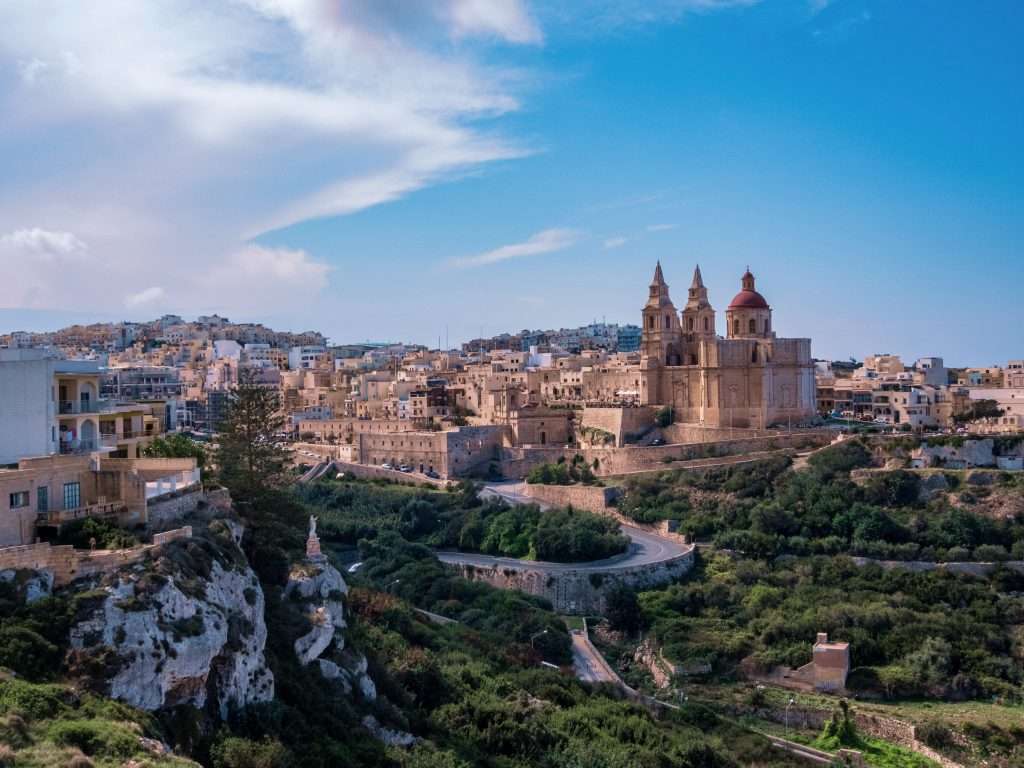 Farmhouses For Sale in Malta & Gozo
Malta - Farmhouse in Birzebbugia
Birzebbugia Farmhouse
€2,800,000 | 5 Bedrooms | 1 Bathroom | 121.00m2
Have you ever imagined living in paradise on earth? This is exactly how one feels as soon as he or she approaches the front door of this amazing converted farmhouse which is surrounded by ten tumoli of ploughed fields and trees whilst commanding beautiful country views. This property is set in the best area of B'Bugia and consists of a combined kitchen and living area, a beautiful and very large courtyard, terrace, bathroom and five bedrooms. Must be seen to be appreciated. Freehold.
Malta - Farmhouse in Naxxar
Naxxar Farmhouse
€1,595,000 |4 Bedrooms |2650 SQM
A fully detached, unconverted farmhouse set in a quiet yet central area of Naxxar. This farmhouse comes on 2200m2 of land with ample space for expansion, pool and garden/BBQ area. Can be easily converted into a 3 or 4-bedroom property with carport or garage. Freehold.
Malta - Farmhouse in Kalkara
Kalkara Farmhouse with land
€595,000 | 2 Bedrooms | 1 Bathroom |
100.00 SQM
An exceptional location in a lovely and peaceful rural hamlet in the limits of Kalkara, this unconverted single-storey farmhouse sits on 2400m2 (approx.) of land. On entering the property you will find a front yard which could potentially be converted into a drive-in. The built-up area is composed of seven rooms, some of which are accessible through two central courtyards. Some of the rooms also give access to a massive field with a total area of 2000m2 and over which comes with a boundary wall and several trees, including olive, plum, pomegranate and almond trees. Must be viewed to be truly appreciated.
Malta - Farmhouse in Zejtun
Zejtun Farmhouse
€2,400,000 | 5 Bedrooms | 3 Bathrooms | 2575m2
The nearest beaches are located within a few minutes' drive. With almost all rooms on the ground floor having direct access to the pool area and garden, this home is a paradigm of indoor/outdoor living. The property boasts 5 bedrooms, 3 bathrooms with potential for more, and includes an interconnected street-level garage that can house up to 2 or 3 cars and the ownership of the overlying roof terraces inclusive of the solar panels. The main entry to the property is through a gate followed by a spacious courtyard which separates the residence from the road.
Further accommodation includes a very spacious hall, formal dining room, living room, everyday dining room and a fully equipped kitchen – all flooded with natural light. A sizable swimming pool and a massive garden are right outside the kitchen windows. The garden is filled with a variety of trees, namely olive, almond, pomegranate and fig trees among others. There is also a spacious detached room which provides the perfect space for an artisan workshop, storage or studio, a borehole and two water reservoirs. What's more, the garden and pool area enjoy full privacy, tranquillity and are surrounded by magnificent country and distant sea views. This is a truly rare offering!
Malta - Farmhouse in Dingli
Seventeen enclosed stables, fully equipped to high specifications. Training track, paddocks, horse Jacuzzi and enjoying ownership of 6 tumoli of land. Accommodated on the property is also a two-bedroom bungalow with kitchen, lounge and shower room. There are also three garages, an isolation area for the recovery of horses, blacksmith's room, shower room, kitchenette and living area. A truly one-off property for the equestrian enthusiasts.
Malta - Farmhouse in San Gwann
San Gwann Farmhouse
€ 790,000
An 18th Century farmhouse located on the outskirts of San Gwann, close to Wied Ghollieqa Nature Reserve. This property enjoys historical heritage and is in fact a national cultural monument. The layout of this farmhouse consists of a welcoming reception area, combined living and dining room, separate kitchen, two double bedrooms (main with en-suite facilities), guest bathroom, a large 35m2 terrace and two large courtyards with ample space for entertaining.
Gozo - Farmhouse in San Lawrenz
San Lawrenz Farmhouse
€550,000
Unconverted farmhouse with original features and loads of potential situated in the quiet village of San Lawrence. Property consists of 4 spacious rooms on the ground floor with a terrace overlooking the garden and a swimming pool, 3 large rooms upstairs, 3-phase electricity installed and the possibility to build a third floor on the roof. Not to be missed!
Gozo - Ghasri, Furnished Farmhouse
Ghasri Farmhouse
€1,030,000 | 3 Bedrooms | 1 Bathroom | 2 Showers
Set on the outskirts of the village surrounded by open country views and distance sea views. This beautifully restored from an authentic old farmhouse boasts lots of old traditional features including arches, wooden beams, mangers, rubble walls etc… Comprising of entrance hall, lovely sitting room with open fireplace, kitchen/dining area, a double bedroom, shower downstairs, 2 double bedrooms upstairs, bathroom and a large terrace. Must be seen! Great location in a quiet and exclusive area and very much full of traditional character!
Gozo - Farmhouse in Gharb
Gozo - Farmhouse in Gharb
€2,200,000 | 5 Bedrooms | 1 Bathroom|4 Showers | 928m2
An authentic farmhouse with all rooms beaming with exquisite traditional original features, renovated to very high standards, set in a very sought-after area on the outskirts of Gharb. Being sold finished and lavishly furnished and enjoying total privacy. This property enjoys a lovely pool and deck area with a large garden and a beautiful courtyard. Accommodation comprising of a large mill room overlooking the garden and pool, a separate kitchen and dining room, 5 bedrooms, 3 en-suite bathrooms, 3 separate shower rooms, magnificent external stair case leading you to the pool area from the first floor and also an internal staircase. From the top floor, one can enjoy amazing country, sea and town views from a very good-sized terrace.
Are you in the market for a country property?
Areas that are popular for rural country houses are Gharb, San Lawrenz, Qala, and Ghasri on Gozo and Zetjun, Dingli, San Gwann, Siggiewi, Qrendi, Birzebugga, Naxxar, Kalkara  and Manikata amongst others in Malta. Should you be interested in finding the perfect property for you and your family, our agents will be able to compile a selection of homes to visit in your area of choice, so please give us a call.