Are you in a flat spin about finding the perfect apartment for rent in Malta? Our guide is sure to help you!
As the most prolific property type used for residential purposes in Malta and Gozo, finding the right apartment or flat to rent is downright daunting. One can spend days, if not weeks trawling the papers and the internet and still have not found the right one. As browsing for a flat to rent in Malta is usually the first step one takes, other factors that we will share with you can help narrow down a search considerably. We will also share the biggest secret of finding a flat FAST!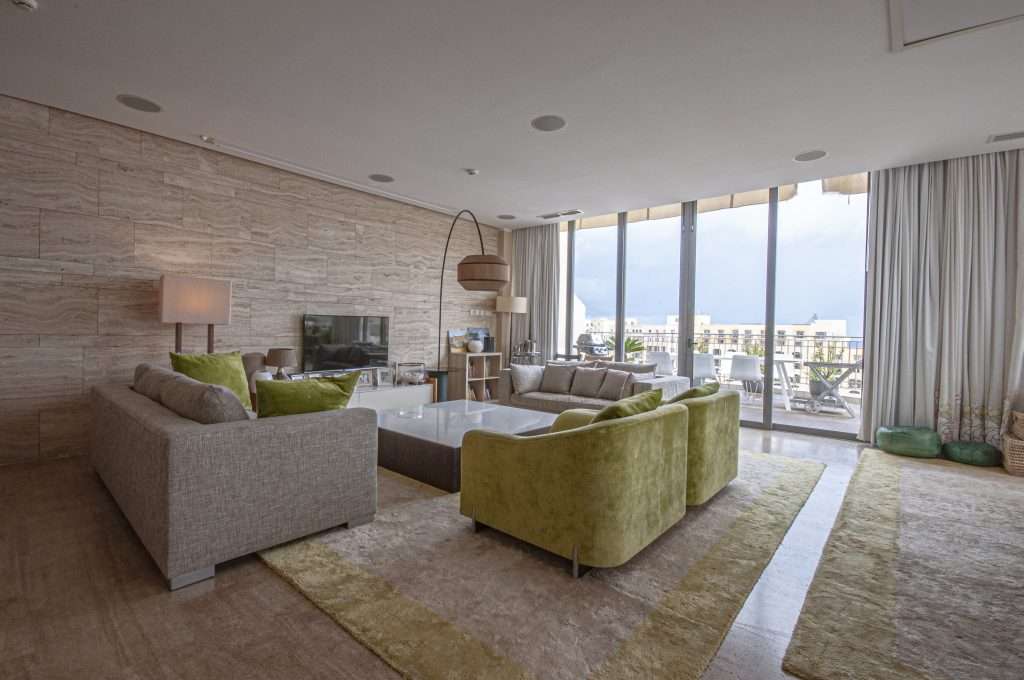 Your best bet is to grab a piece of paper and write down what applies to you in each of the sections below:
Set a budget
It's no use looking for any flat to rent when you do not have a clear indication of what you can afford to spend. Rental prices will vary depending on size, location and even amenities and never ever overspend when you are looking at renting an apartment. Write down the budget amount and stick to it and remember, there will be additional amounts that apply such as electricity, water, parking/garage and internet if this is not included in the rental amount.
What are your needs and requirements?
Some people are happy with a small, cosy space and others want open-plan layouts and views for example. Think of how many bedrooms you need and also if the property needs to be pet-friendly, can incorporate or exclude stairs, have a lift in the block and more.
Decide on a location
Do you want peace and quiet or do you want to be in the middle of the action? Do you want to be close to work, shops, transportation, schools or medical facilities, the university, promenades and beaches? This will all influence the rental price.
Condition and age
Must the flat be new or can it be of age? Must it be renovated and updated? Some people like art-deco or mid-century design while others want only ultra-modern.
Amenities
Although not crucial to have, some blocks may have access to gardens, a communal pool or even laundry facilities. If you want to live in an apartment that has any of these amenities, expect to pay more. 
Parking or garaging
A flat with an allocated parking or garage will cost more. If you are happy to park in the street, investigate the area to see what the parking situation is like or ask your rental agent's opinion.
What's next and what is the secret to finding a flat fast?!
Once you have your list completed, you are well on your way to finding the flat of your dreams in Malta. Having a clear guide or list of your requirements will narrow down the field considerably. Our best tip is to hand over a copy of this list of requirements to a professional and qualified letting agent in your area and let THEM find you the best candidates, fast!
Employing the services of a rental or letting agent is invaluable because:
Rental or letting agents are qualified professionals who deal with people who are flat hunting on a daily basis, so they will know the areas, the stock and what is available within your budget and requirements.
They will also be able to weed out apartments that have been rented that may still be listed on other websites as "available", saving you frustration and valuable time.
Rental agents most likely will know the owners or landlord and can negotiate with them on your behalf.
Rental agents will ensure that you are protected as a tenant for the duration of the lease.
Rental agents will complete all the paperwork on your behalf and deal with the landlord.
Rental agents will accompany you on all viewings and
assist you when you do an on-site inspection prior to moving in.
Rental agents will also help you with drawing up and or completing/going through the detailed inventory of the items that come with the apartment as part of the lease agreement.
Rental agents can assist you with registering your utilities.
With an experienced rentals agent by your side, you will have peace of mind and can look forward to a pleasurable experience from finding the right flat to moving in!
Some handy tips to remember when you are going to rent:
The landlord: Ask your rental agent about the landlord's reputation and past history.
The rental agreement: Ask your letting agent to carefully explain every term and condition to you before you sign it. If you are unhappy about anything contained in the contract, have it amended or changed if possible. Also make sure you know precisely what is in- or excluded.
Security deposit: It is normal for a landlord to require a security deposit before you move in. Whether you pay this to the landlord or the rental agent, make sure you get an official receipt for any money handed over. This you will get back at then end of the lease minus any possible damages incurred. Money for what is considered normal wear and tear cannot be deducted.
Utilities: Have it clearly stated in the rental contract who will be paying for water and electricity, internet connections, in fact anything related to the rental of the property.
Typical types of flats available for rent in Malta
Studio/bachelor/bedsitter apartments
This type of apartment is small and ideal for holiday, students, singles and young professionals. Layouts comprise of a large open-plan room which includes a sitting area, sometimes with a separate kitchen or kitchenette and a separate bathroom. There will usually be a balcony at the front and possibly at the back.
Standard modern apartments
These can be anywhere in size from 1 or 2- to 7 bedrooms with an open-plan layout that incorporates a lounge/dining/living area. Kitchens are separate or part of the open-plan and bathrooms are usually en-suite to the main bedroom. Older apartments may have a separate dining and living room. There will be a further family bathroom in bigger apartments and possible a guest toilet. Additionally there will be outside spaces in the form of a front and back balcony/ies (the latter usually off the bedrooms), sometimes even access to a terrace. These types of apartments are suitable for professionals and families.
Penthouses come in all shapes and sizes and are usually large, well-designed and have open-air outside spaces with BBQ areas and even Jacuzzis! Bedrooms can number anywhere from 2 to 5 or more and expect walk-in wardrobes, en-suite bathrooms and other luxuries. Penthouses usually have the best views over the surrounding areas and perfect for professionals, couples and business people who love to entertain.
Apartments are popular for many reasons, but mainly because they are affordable to either buy or rent and are ultra-convenient to live in. They suit anyone who loves a lock-up-and go lifestyle and also incorporate a measure of security because you always have neighbours close by. Apartments in Malta that are offered for sale or rent are immensely diverse, so there's definitely one for you if you are currently in the market to rent or buy.
Make it easy and call one of our agents today to get you the apartment of your dreams. After all, we have more than 50 years of experience and have assisted thousands of people over the years to settle into their dream flat…on both Malta and Gozo.