Property with land in Malta & Gozo
Why properties with additional land are becoming more and more popular.
Malta and Gozo both offer stunning rural landscapes and the country itself has a thriving real estate market, presenting an enticing proposition for those in search of property with its own land or even close-by additional land for sale. After the lockdowns and restrictions of the past few years, having ample outside space for a garden, a pool area and even a patch of ground to plant some home grown vegetables in is at the top of the list of requirements for those wanting to invest in bigger rural properties.
Some people are eager to find a property with enough land so the property itself can be extended, subdivided or even be rezoned through proper planning applications and permissions. Other simply want a property with land which offers privacy and access to nature offering some peace and quiet, while others are more interested in owning land for either its cultural or historic significance. Lastly there are those who are interested in acquiring a property with land purely for commercial ventures such as farming.
No matter how big or small
Land can be anything from an outside garden or terrace area adjacent to or part of a property; or it can be a sliver of the precious countryside or idyllic farmland where one can cultivate something or it can simply be a piece of the rugged outdoors offering views over coastal cliffs and serene valleys. It has become ever more important in today's congested cities to appreciate the value of having more space, a piece of land to call one's own, even more so if it is a protected piece of land that can never be taken away. Owning a property with additional land can also mean having the chance to create gardens, cultivate vineyards or even extending one's own private oasis. The bonus is that Malta's Mediterranean climate further enhances the appeal as it allows for year-round enjoyment of these sought-after outdoor spaces.
Land offers a chance to create a sanctuary of one's own
A major advantage of owning property with land is the luxury of having space and the privacy it affords. When compared to urban properties, additional land offers the opportunity to create a secluded haven away from the bustling cosmopolitan areas. Whether the land is part of a sprawling estate, adjoining a house of character or farmhouse or simply at the back of a maisonette, having ownership of additional land is the extension of one's own private sanctuary. Rural properties may already have established gardens or even swimming pools on the additional land, but many buyers prefer to now have it remain completely as nature intended it to be, providing a refuge for insects, animals, wild flowers and plants.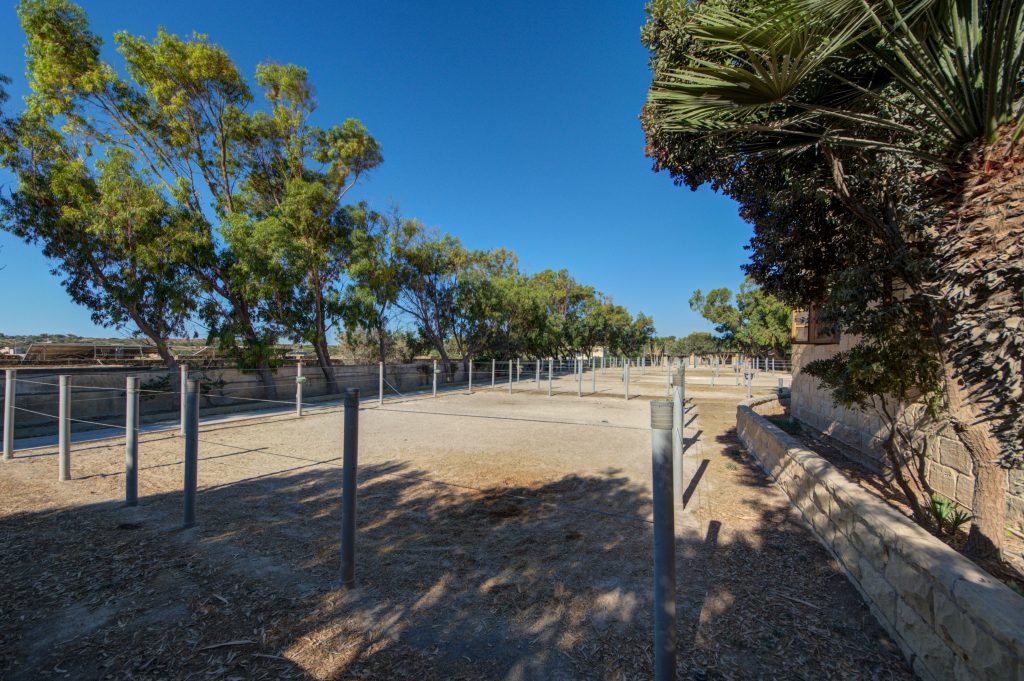 Opportunities are always there
When it comes to owning additional land, there is the allure of Malta's thriving real estate market and consistent economic growth that cannot be ignored. A property that comes with additional land can be a lucrative investment opportunity, but development must be undertaken with careful consideration and preferably be accompanied by in-depth studies of the impact it will have on the environment. The demand for land in Malta not only remains strong, it is on the increase as land with permission for development becomes ever scarcer. Owning the right piece of land presents multiple possibilities for development, whether it is for additional properties, establishing a commercial venture or leveraging the land for intensive agricultural purposes, but this will all depend on the zoning of the land. On top of this, Malta's popularity as a tourist destination and a desirable place to live ensures a steady unending stream of potential renters or buyers, making property with land zoned for further development an irresistible long-term investment prospect.
Looking after our heritage
Something that can no longer be ignored is the absolute protection that must be awarded to those remaining sites and specifically land that contains important elements of Malta's cultural heritage and past history. The islands are dotted with ancient Roman ruins, medieval fortifications and Neolithic buildings on private land, all offering a rare glimpse into its ancient past and by owning such land, an owner becomes the custodian of part of Malta's history.
What many owners do not realise is that land with historic ruins have the potential for unique investment opportunities:
these sites attract tourists and researchers from around the world, making them irresistible to individuals or organisations interested in heritage tourism, cultural preservation projects or academic research. This opens doors to collaborations, partnerships or even revenue-generating initiatives such as guided tours or archaeological programs. Malta has always been extremely proud of its past, whether recent or ancient and by sharing the historical significance and stories associated with these sites, one can foster a sense of pride and appreciation within the local community and contribute to the cultural fabric of Malta.
What is available at a glance
One can buy stand-alone pieces of land starting from €18,000 for a plot of agricultural land in Gharb, Gozo. Then there's other land available in San Lawrenz, Rabat, Qala, Mellieha, Zebbug and Bahrija for under €50,000 right up to the top end for a commercial plot in Hal-Far that is on the market for €65,000,000. As one can see, it all depends on what your intentions are and of course what budget you have. Many of the farmhouses, houses of character and maisonettes offered for sale in Malta and Gozo come with their own land which forms part of the property and if this is what you are after, speak to your local Frank Salt agent as they will be able to assemble an appropriate selection for you to look at. For hundreds of more options, please visit our website franksalt.com.mt.
…and finally
The allure of owning property with additional land in Malta is undeniable. Before making any purchase of such a property or an even an individual piece of land, it is imperative for prospective buyers to investigate local planning regulations, zoning restrictions, access to utilities and of course to investigate the environmental considerations. By engaging the services of a reputable real estate agent with expertise in specifically land transactions, you will have absolute peace of mind when it comes to your future plans.
Get in touch if you are interested.