We reveal why owning a Gozo property has become the hottest commodity in Malta!
Gozo is known as the more rural and the pretty sister island of Malta. The ancient Greek historians Euhemerus and Callimachus wrote that Gozo is (according to Homer's description) the very island he called Ogygia: the home of the nymph Calypso. It is therefore no wonder that Gozo is also known as Calypso's Island!
Gozo's property landscape has for many years been very active but low-keyed when compared to Malta and the island remained relatively in the background, but this has all changed in recent years as property investors now clamour to get their piece of this iconic, beautiful island. To add to the island's popularity, more than 84% of those who visit Malta also visit Gozo and the figures are still on the up! The first serious wave of new buyers of Gozo property started during the recent pandemic, as many locals realised that Gozo property offered for sale can be an ideal investment alternative and additionally a convenient, close travel destination for owning a holiday or second home. The increase in the number of property sales and area percentage gains for Gozo villages' has seen the small island outperform many of the most popular areas in Malta for two years in a row.
When we look at what people are buying, it is important to note that these buyers are after more than just a place to sleep on a weekend away from Malta. What they want is lifestyle orientated: second or holiday homes with bigger kitchens and space for the family to get together, outdoor area like gardens and terraces and if a property had a pool, even better! Many buyers are also looking at the longer term, to buy a property now that they one day can retire to. This is where Gozo has the advantage: older homes on the island are usually bigger in size and will often come with some outside space to boot, something which buyers find irresistible.
Prospective buyers looking at buying a property on Gozo have to keep one thing in mind:  Gozo property has always been known to be "cheaper" and more affordable than that of Malta, but the gap is closing quite rapidly with some property types such as houses of character and farmhouses now entering luxury territory when it comes to pricing. Finding the "bargain home" on Gozo has now become a difficult quest, with most property types' prices very much on par with that of Malta.
Those who were lucky to have bought property early on in Gozo will turn out to be the real winners in the property stakes, but this does not mean that there are no good deals to be found at all. The secret to buying a property in Gozo and getting the best value for your money is to establish a good relationship with an experienced estate agent who knows the island and its villages inside out. Any agent worth their salt knows all the trade secrets of Gozo: dreamy houses located in hidden alleys, the sellers who do not want their properties advertised in the public domain, properties that are for sale but have not been listed yet, hush-hush word-of-mouth referrals and much more. A good Gozitan estate agent may even be able to persuade an existing owner to sell, even when their home is not on the market but a buyer happened to walk by, fall in love with the property and is willing to pay whatever the price is. Some of the property sales negotiations on Gozo are still very much approached in an old-fashioned way and those not in the know may just get their "island etiquette" wrong when trying to buy a property, so it is a far better idea to appoint a local estate agent to represent you through the whole process.
Due to the surge in Gozo's popularity as a property investment hotspot, another reason to appoint an agent is that all of the big developers on the island will invite a hand-picked selection of agents from only the best local companies to a pre-launch of any new development and this is usually not open to the public. The agents will then go and present the units offered for sale to their pre-qualified buyers first, before it gets marketed to the broader public. This is where a relationship with a good agent bears fruit as you as a buyer will get first option to select the best apartments at the best prices, often discounted so much at times that you will make money on your investment even before you have moved in!
We are going to be looking at the bigger picture of buying a property in Gozo: precautionary steps to take before you buy, property locations, towns, villages and property types in Gozo and some of the other measures you can take to ensure that you get your slice of idyllic Gozo life.
Gozo's reputation is legendary: as an unspoilt holiday destination, as the perfect place to own a second or holiday home and as the dream location to retire to. Gozo is still relatively unspoilt with buckets of old-world charm and many of the old traditions are still honoured and respected in its towns and villages. People still work the land; the afternoon siesta is widely enforced and many businesses still close between 12pm and 4pm.
Gozo has some of the most beautiful beaches in Malta, such as Hondoq ir-Rumien, Xlendi, Ramla Bay, Wied il–Għasri, Marsalforn Bay, Dahlet Qorrot, Dwejra Bay, Mgarr ix-Xini and San Blas. All are located within easy reach by car from anywhere on the island.
Gozo'sa carnival usually takes place during the last weekend of February each year and is an event not to be missed. Many streets in the capital Victoria are closed, revellers enjoy themselves and marvel at the floats and costumes and part late into the night. The carnival's main events usually takes place over a weekend but the festive atmosphere preceding the week of carnival is palpable all-round and everybody is out to have a good time.
Besides all the village festas, there is always something on in Gozo. Tiny Gozo is world-renowned as having the most theatres and opera houses in close proximity, as reported by the Times of Malta: "With its 30,000 inhabitants and two opera houses, Gozo has more opera per square kilometre than any other place in the world." Gozo boasts art galleries, countless restaurants and coffee shops, top hotels and some stunning BnB's and boutiques hotels. Ghajnsielm in Gozo is also the official municipality for Comino Island (and thus the Blue Lagoon) and acts as the main jump-off point to this national treasure. The Blue Lagoon attracts countless thousands of visitors during any given year.
Gozo's annual cultural calendar is filled to the brim with activities such as performances by the Gozo Youth Wind Band & Orchestra performing "Opera vs Pop", "From the Beatles to U2" and many more all over the island and often under the stars. Concerts are often held on popular beaches, hosted by national and international stars. Then there are food festivals, wine festivals, museums and much more. For such a tiny island, Gozo is abuzz the entire year and the local government prints detailed programmes featuring all the activities on a regular basis.
Gozo has so many interesting places one can visit, that it is impossible to mention them all here without writing a book. We advise that whenever you visit Gozo, the best thing to do is to consult the locals and tourist office in Victoria. We look at the most obvious ones on this gem of an island:
Once holding the record as the oldest man-made structures on the planet, it was only toppled by Göbekli Tepe, a Neolithic archaeological site in Turkey in recent years. A UNESCO World Heritage Site, Ggantija is a Neolithic-era megalithic temple complex in the village of Xaghra that draws the crowds year after year. A must-see when visiting Gozo.
Close to Sannat and Munxar villages, these formidable cliffs drop 120m down to the ocean and the area is an important bird sanctuary. Archaeological remains have also been found in the area such as dolmens and cart ruts. Fantastic for a scenic walk along the cliff road.
Xlendi Phoenician Shipwreck
This 7th Century shipwreck lies at a depth of 110m just outside the bay at Xlendi and with several diving schools and academies in Xlendi, this bay is popular with scuba divers from all over the world. The wreck is unfortunately closed for public exploration due to its archaeological importance and considered a treasure of national importance.
This lagoon of seawater at Dwerja is connected to the Mediterranean through a narrow tunnel and a favourite diving site. Jacques Cousteau described it as one of his all-time top ten diving sites.
Also known as the Castello, this fortified hilltop "town" has been featured in countless movies and has been occupied since the Bronze Age. From here you can survey the entire Gozo, visit the Cathedral of the Assumption and other notable buildings. It is a must on anyone's list visiting Gozo.
The Gozo Aquaduct was constructed between 1839 and 1843 to carry water from Kercem to Victoria.
Comino is Malta's third largest island and mainly uninhabited except for 2 permanent residents. The island is a bird sanctuary and nature reserve and a priest and policeman make regular trips to see the last surviving inhabitants. Once a hunting and recreational ground for the Knights of Malta, the island has very few buildings except for a chapel, military barracks and a tower, the old Comino Hotel for which there are plans afoot and some bungalows at Santa Marija Bay.
Comino's most famous attraction is the Blue Lagoon, attracting many thousands of people a year to swim and sunbathe. You will always see quite a few super yachts moored at the Blue Lagoon during the summer.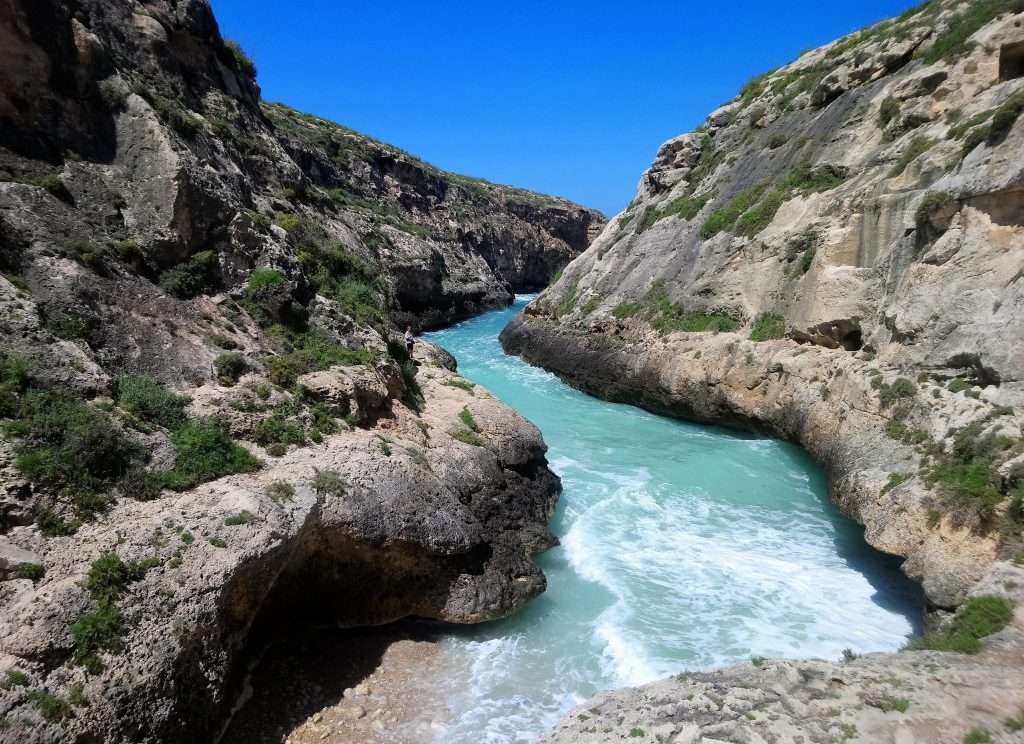 Popular Gozo villages and towns
Due to Gozo's small size, most towns and villages and everything they have on offer, are within easy walking distance from their centres. One can even walk from some of the small villages to the next with ease. We look at some of them in more detail:
Mgarr is the arrival point for visitors from Malta and it is the harbour town where the ferry docks and departs. Mgarr is scenic with a gorgeous harbour, thronged by excellent restaurants and bars and it is overlooked by stunning modern apartments as well as traditional and quaint homes. Two of Gozo's most famous landmarks are on top of the hill at Mgarr: the Church of the Madonna of Lourdes and Fort Chambray, the latter which is a Designed Area with some stunning villas and apartments for sale.
A quaint fishing village, renowned for the discovery of a Phoenician shipwreck of international importance which was discovered just outside the harbour some years ago. Xlendi is in fact so popular that the whole village is undergoing a Renaissance of sorts, much to the chagrin and ire of many who fondly recall its innocent charm of yesteryear. In the process of being modernised with many construction projects underway around the bay, Xlendi's irresistible charm and lure is undeniably evident during the entire summer and especially on the weekends when the masses descend on this coastal fishing village. The restaurants along the waterside, the diving academies and even the tiny beach is packed day after day signalling that Xlendi's popularity is unwavering and on the increase. During the summer, live band performances take place in the evenings with the cliffside spectacularly lit up, serving as a backdrop.
Xlendi has a varied selection of properties for sale, from luxury apartments and villas to affordable apartments a short stroll away from the beach.
Close to Mgarr and Ghanjsielem, Qala is a much-loved village with beautiful church square and good restaurants. Qala is on the way to the popular beach at Hondoq ir-Rumien. A favourite with locals and expats, Qala has a variety of homes on offer such as apartments, townhouses, houses of character, terraced houses and even villas and some mega building projects are under way in the town.
Victoria is also known as Rabat or Città Victoria and is the administrative capital of the island. Victoria has it all in spades when it comes to convenience and charm. Various squares such as It-Tokk, St George's and St Francis are packed with tourists and locals sipping cappuccinos or enjoying a glass of wine between shopping in the myriad of shops. Victoria is also home of the "alleys", a maze of charming and beautiful streets that make up the heart of the old town.
Victoria is a major hotspot for social and cultural activity, with museums, art galleries, shopping centres, boutiques, grocers and convenience shops everywhere. Here you will also find a cinema, the Astra and Aurora opera houses and access to the Cittadella, a major tourist attraction.
Owning a home in Victoria's historic heart is very high on everyone's wish list and building styles are usually the traditional townhouse and maisonette, but rare houses of character can also be found here. Further out one will find modern apartment blocks and terraced houses for sale.
Bordering Victoria is Sannat, sought-after as a place to live by locals and even some international celebrities. Sannat is on the way to Ta'Cenc Hotel and Spa, one of the island's top hotels and a favourite hideaway of Hollywood's A-list. A short walk from the hotel, looking towards Xewkija and a few metres from the road that leads down to il-Kantra, three tombs that are assumed to be of the Early Bronze Age (c. 2500-1500 BC) can be found. These are marked with dolmens and cap stones.
Marsalforn has always been a favourite destination for Maltese locals who want to get away for the weekend, thus many own summer homes and apartments here. The promenade at Marsalforn is lined with restaurants specialising in anything from local to Indian and Italian cuisine, burgers and fine dining. On the way to Marsalforn from Victoria is one of the islands most coveted restaurants, Ta'Frenc. Marsalforn is also a favourite amongst UK Expats due to its convenience, affordable accommodation and seafront apartments located in the middle of all the action. Marsalforn is one of the last vestiges on Gozo where super-affordable apartments can still be acquired and due to the recent rehabilitation of the whole waterfront, it is predicted that prices will increase considerably in the near future.
Xaghra is one of Gozo's most adored towns and comes with a certain degree of prestige amongst locals. With a lovely church square lined with restaurants, Xaghra is also home to the Ggigantija Temple Complex, which is older than the pyramids and the second oldest structures on the planet. It is also a UNESCO World Heritage Site and draws many thousands of visitors to Gozo during the year. Apartments and homes on the perimeter of the town offer beautiful panoramic views over the valleys and countryside and in town you will find maisonettes, townhouses and houses of character for sale.
An overview of the buying process of a property on Gozo
Get pre-approved if you are going to make use of a loan to buy the property
This will give you bargaining power and save a lot of time. It will also set parameters as to what you can comfortable spend as monthly payments on a property. Always try and stay within or under your budget. It will also pave the way for activating your actual loan once you have chosen a property to buy.
Appoint an agent to represent you
Before you start window-shopping, get an accredited agent to do the legwork for you. Tell them what lifestyle you are after, what location you prefer, what your budget is and what type of property style you prefer. The internet offers an overwhelming array of choices in property on Gozo and some of the properties may have been sold or could have been taken off the market and can lead to disappointment once you find out it is no longer available. The agent will save you time and money and present you with a selection of available properties according to your wants and needs. What is even better is that the agent will have all the facts, figures, conditions and history of the home available for your scrutiny and will set up an appointment for an on-site viewing upon your request right away.
Start seeing properties with the agent
The agent will arrange viewings on your behalf at a time that suits you. You can be assured your Gozo estate agent will have a hand-picked selection that is just right for you, saving you from having to trawl the internet yourself. Take pictures, ask questions and discuss possibilities. Narrow down your list to a favourite or two, or ask to see more of the same. You, together with your agent, will find a property that is a perfect fit for you and your family in no time.
Something to consider: see if the property you like, is available for a short-term rental
What could be nicer than "try before you buy"? If the property you like in Gozo is available for rentals, you will be able to experience the property, the neighbourhood and surroundings and see if it is perfect for you before you buy. If the property is not available, still try and find a nearby home to stay in for a day or two so that you can still experience the location and all it has to offer.
Make a decision sooner than later
Due to the demand and popularity of Gozo property, we advise that you do not wait too long to make a decision whether to put in an offer. The list of hesitant clients who have missed out on their dream Gozo property is growing by the day due to the fact that wise buyers know what they want and act accordingly, getting the cream of the crop! Don't risk having to start the search all over again or sitting it out until something becomes available in your budget and location of choice. By that time prices have already gone up and fewer properties in your category will be available. As they say, the early bird catches the worm!
The next step to secure your property of choice
 After you have decided on a property, make sure you sign a Promise of Sale as soon as you can to secure the property. If you do not, other agents will continue to show the property and sell it from right underneath you. As a gesture of goodwill, you can also put down a deposit (usually around 10%) to show your seriousness and commitment to buying the property.
What then?
From here on the process will follow its course and the agent will inform you when to sign the deed of sale at a notary of choice upon which time you will have to pay the remainder or outstanding balance of the entire sales price plus sundries in full. Once this has been done, the property will be transferred into your name and you will take possession.
We have many guides available on buying property that explains the entire process in detail, should you be unfamiliar with it.
The last word on buying, selling and owning a property in Gozo
Frank Salt Real Estate has been Malta's premier real estate company for more than fifty years with two offices on Gozo. Manned by highly knowledgeable and experienced real estate professionals, this is your one-stop shop for anything property, whether you are a buyer or a seller of Gozo property. As the first agency to have a presence on Gozo, we have seen the rise in demand for Gozo real estate and more and more people are relocating from the hectic pace of Malta to Gozo for remote work or to retire. This has incrementally increased the demand for the whole array of property types on the island, with especially houses of character seeing the biggest increase. The introduction of the Digital Nomad Visa by the government has also driven up requests for rental accommodation on Gozo by individuals from all over the globe. Increased tourism has further fuelled the buy-to-let investor market, especially for short-term lets and this trend will only increase in the future. Our advice is get into the property market on Gozo as soon as you can, as sales are bullish and trade is brisk, with attractive and correctly-riced properties offered for sale not staying on the market for very long.