Best Locations to Buy Property in Malta
When one wants to look at the best places in Malta or Gozo to buy a property, it all depends on budget and one's preferences. As properties can be bought as primary residences or as investment properties to rent out, all these factors will play a role in deciding which area is best. We take look at the most popular areas that have proven over the years to be favourites, whether you have a small or large budget. With Malta's sound economy and good capital growth, property has proven to be the investment of choice as a hedge against inflation. With this blog we will guide you through the best places to buy, considering various budgets, property types and locations.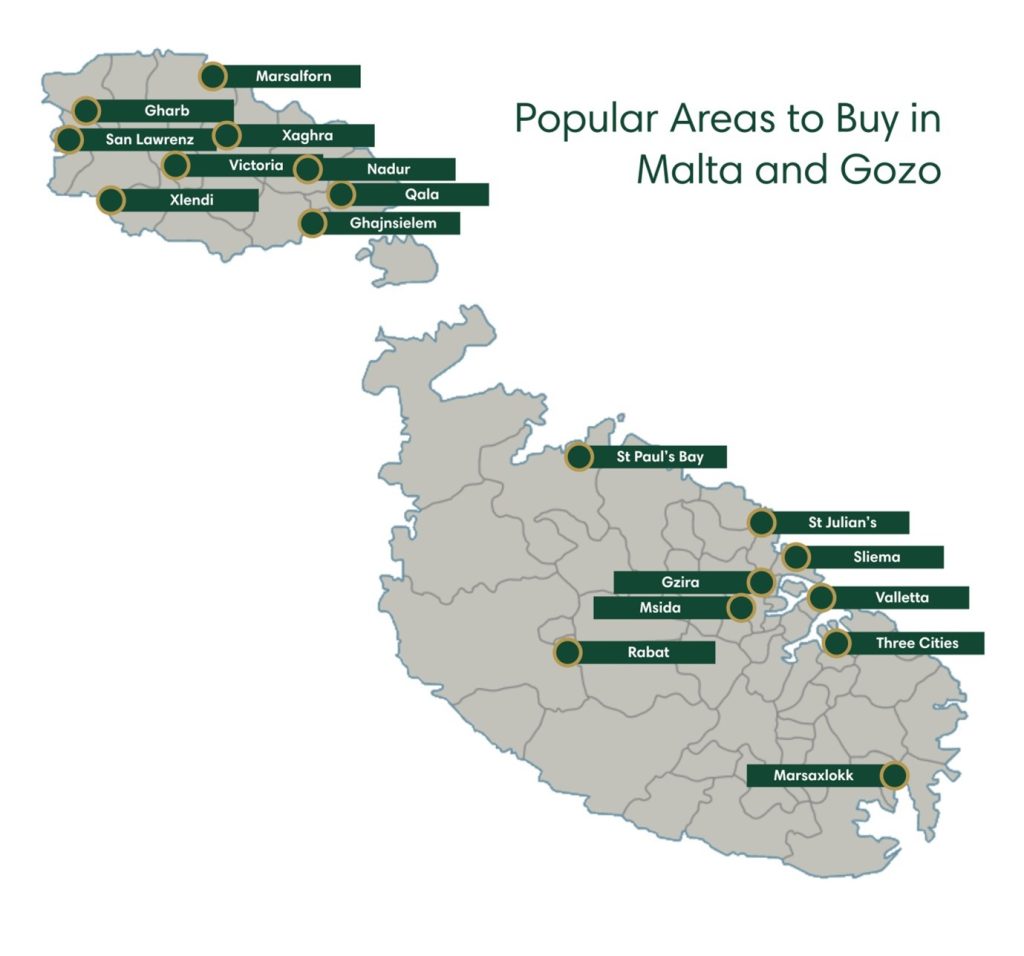 Sliema
Cosmopolitan seaside charm with an enviable lifestyle
Sliema is an excellent choice if you're looking for property in a prime location and within a higher budget. With its famous promenade, upmarket shopping and countless cafes and restaurants, Sliema is considered by many as the beating heart of Malta. Here you will find a variety of property types: from apartments and penthouses to maisonettes, townhouses and even terraced houses. Property prices start from around €250,000 for a one bedroom apartment to many millions for glamorous designer penthouses in prime locations.
St Julian's
An entertainment hub and near-resort lifestyle
Right next door to Sliema is St Julian's and it is even more sought-after than Sliema! With its bustling nightlife, St George's Beach, entertainment venues, five-star hotels, casinos and upmarket shopping, St Julian's is arguably Malta's most prime location to own a property and therefore more expensive. Owning property to rent out here can be a lucrative business due to everything that's on offer. Apartments start from €250,000 with the top end well over the €3,000,000 mark for apartments located in Portomaso, Portomaso Laguna or Balluta Bay.
Valletta
Cultural heritage and loads of historical charm
A UNESCO World Heritage site celebrated for its rich history, Valletta is also the capital city of Malta. With breathtaking architecture and cultural significance, owning a property in Valletta offers an exceptional and enthralling experience, immersing residents in the pulsating heart of Malta's capital. Through its picturesque cobblestone streets, majestic palaces and remarkable architecture one is transported to a bygone era. Despite its historical charm, Valletta doesn't compromise on modern amenities and services and offers a diverse range of shops, boutiques, restaurants, cafes, and supermarkets. The city's compact size enhances its walkability and with its vibrant calendar of cultural events, there is never a dull moment. Here one can find one-bedroom apartments from just under €200,000 to majestic palazzos that are over €10,000,000 for sale!
Marsaxlokk
Peace and quiet by the sea
If you prefer a quieter lifestyle and have a moderate budget, Marsaxlokk, a traditional fishing village, could just be the right place for you to own a property. Renowned for its colourful fishing boats and the famous Sunday market, Marsaxlokk offers a relaxed ambience and picturesque sea views. Properties here are often more affordable, including charming townhouses, apartments and penthouses with stunning views of the bustling harbour and promenade. If you are after a laid-back lifestyle and want to admire the beauty of the Mediterranean coastline, look here first. Shell apartments are available from well below €200,000 to stunning finished and furnished penthouses worth well over €1,275,000.
Rabat
Rural charm and Maltese authenticity 
Rabat is an excellent choice for those seeking a more tranquil and rural setting. Located near the ancient city of Mdina, Rabat boasts beautiful countryside views and is steeped in history. With charming squares, narrow streets and traditional houses, Rabat offers a perfect, peaceful environment away from the bustling city life. Here you will find unconverted farmhouses from several millions to shell form maisonettes for just over €200,000.
The Three Cities 
Loads of charm and value next to Valletta
If you are looking at buying a property in The Three Cities (comprising of Vittoriosa, Senglea and Cospicua) you will discover that the area offers residents not only value for money but also a captivating blend of history and charm set in the most scenic of waterfront neighbourhoods.  With its rich historical heritage with well-preserved fortifications, centuries-old buildings, stunning architectural beauty featuring traditional baroque churches, some located in narrow alleys, this is picturesque waterfront living at its best. With marinas, promenades, museums, open-air venues and everything else one could wish for, here you will also be part of a close-knit community. With its proximity to Valletta, you are just a short ferry ride across the Grand Harbour from the capital of Malta. The location offers unreal value for money with a finished apartment offered for sale at just over €110,000. In The Three cities you will find a huge selection of apartments, townhouses and maisonettes and remember, just like Valletta many of them are located in an UCA which qualifies for several discounts should you buy!
Gzira
Value for money next to Malta's most popular attractions
Gzira is a vibrant location, offering another affordable alternative to Sliema and St Julian's. With the area's on-going renovations and upgrades, it has become a sought-after area for buying property. Gzira offers stunning waterfront living along Marsamxett Harbour and the area's convenient location with its excellent transport links and a wide range of amenities, a bustling entertainment scene with popular bars and restaurants offer ample opportunities for outdoor recreation. Gzira also offers easy access to all of Valletta's cultural attractions, making it an ideal place to invest in property for short-term rentals to tourists. Here you will find many types of properties and we have listed a furnished one-bedroom apartment for a mere €180,000!
St Paul's Bay
A haven for expats and locals alike
St. Paul's Bay with its coastal location, beautiful bays and inlets is destination known for its relaxed lifestyle and offers a wide range of properties for sale, from modern apartments and maisonettes to traditional townhouses and villas, catering to most preferences and budgets. The area offers stunning sea views and proximity to beautiful beaches such as Golden and Mellieha Bays. St. Paul's Bay also boasts convenient amenities and services, including supermarkets, shops, restaurants, and bars, as well as excellent transport links to the rest of Malta. St Paul's Bay is ideal for water sports and outdoor activities, with opportunities for swimming, snorkelling, diving, fishing, hiking, and cycling. The town has a rich history and many cultural attractions. Close by is Qawra and Bugibba's vibrant nightlife scene and then there are sites like St. Paul's Island and the Wignacourt Tower for those that love history. Prices range from €135,000 for a finished maisonette to a detached bungalow for just over €4,000,000.
Gozo
Malta's charming little sister island offers it all
Gozo is a serene and idyllic escape from the main island's hustle and bustle. With stunning landscapes, crystal-clear waters, and rich unique cultural heritage, Gozo attracts property buyers looking for a slice of heaven. Here you will find from luxury farmhouses with private pools to quaint village houses, apartments and penthouses, maisonettes, cliff side bungalows and many houses of character. Gozo is still regarded as offering more value for money than Malta and many locals and expats buy properties here for retirement, holiday and investment. The most popular towns to purchase property in Gozo are Victoria, Qala, Xlendi, Marsalforn, Gharb, San Lawrenz, Ghajnsielem, Nadur and Xahgra.
Gozo offers a wide range of properties to suit various budgets, ranging from an unconverted house of character in Qala for a mere €90,000 to a furnished villa in Ghasri for €4,250,000. Gozo in addition has many apartments, penthouses, maisonettes, townhouses and terraced houses for sale all over the island.